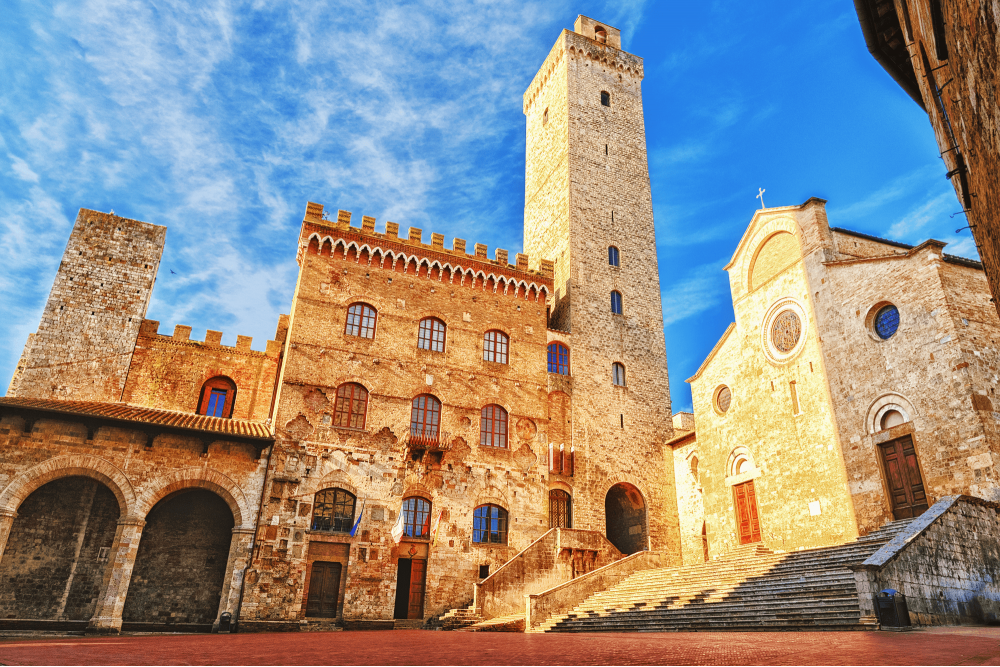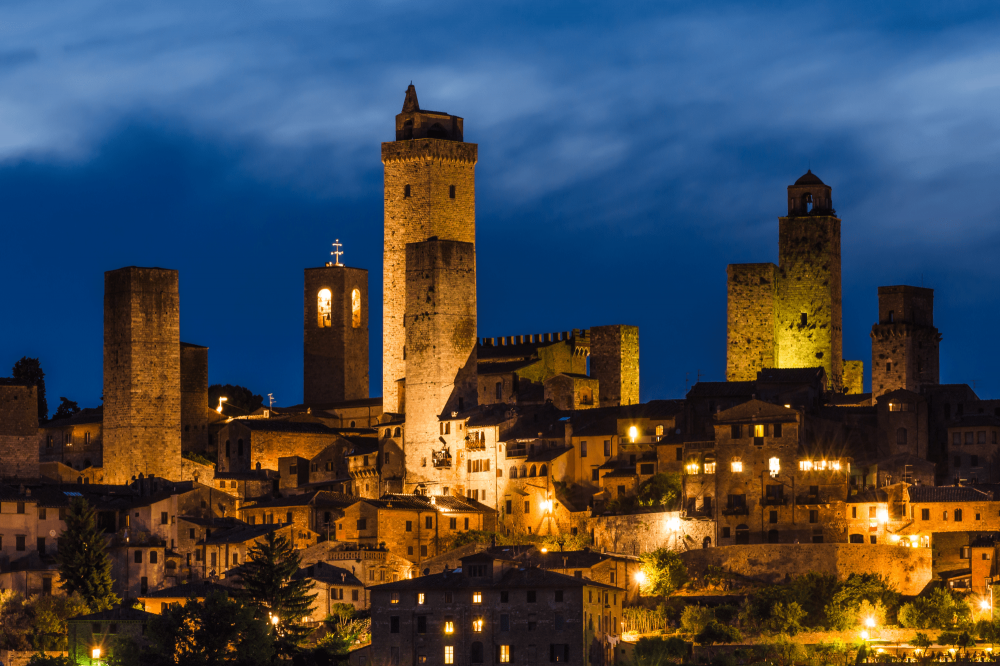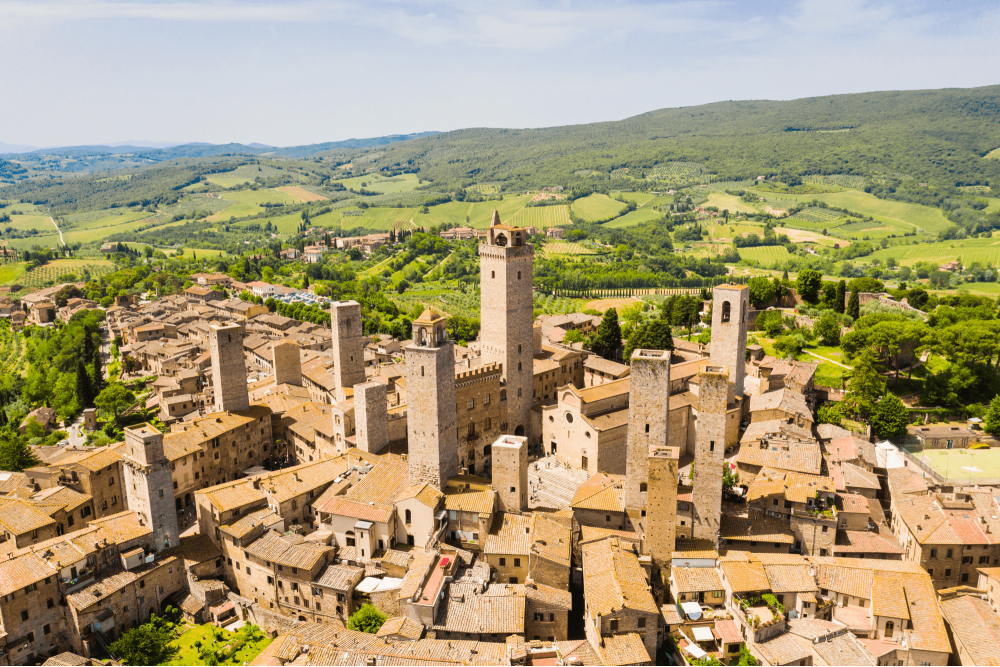 ---
Description
Monuments
8 Hours
*Guide
Views
Tablets
*Tasting
THE VILLAGE
San Gimignano is one of the most iconic and charming destinations in the whole of Italy; it derives its name from the bishop of Modena San Geminiano (from the Fourteenth century), who, according to the myth, saved the city from the Barbarians' attack when they sprung upon the city walls. While famous worldwide for its towers, also worth seeing are the collegiate Basilica of Santa Maria Assunta, filled inside with various frescos and art pieces of artists such as Bartolo di Fredi, Domenico Ghirlandaio and Jacopo della Quercia, the church of Sant'Agostino and piazza della Cisterna.
HISTORY
Because of its central position, compared to the two main enemies, Florence and Siena, the ancient town was often involved in the feuds between the Guelphs and the Ghibellines. 1255 is the year that signs the handover from the Sienese to the Florentine supremacy, authors of the devastation to the original walls. From 1260, year of the Ghibelline victory in the Montaperti Battle, the Sienese gain power again over the city that they will also rebuild and extend. The 72 towers built by the aristocratic families, aiming to display their wealth and power, are another element that makes its appearance more majestic. Even nowadays, the unique and unmistakable profile of the city is defined by the 13 magnificent towers which survived time.
THE ROUTE
Get on board of one of our vintage Fiat 500s and we will drive you through an interactive tour experience. Setting off from Siena and following the instructions of the GPS, you will cover the countryside of Val d'Elsa, going across some stunning villages, such as Monteriggioni and Abbadia Isola. Interactive videos will guide you through the discovery of the city of Colle di Val d'Elsa, at the halfway leg. After getting to San Gimignano, you will be free to enjoy the timeless beauty of the village, get up onto the towers and admire the breathtaking view and visit the Basilica of Santa Maria Assunta and the museums, all while tasting some of the typical cuisine of the area. You can end your visit sipping a tasty glass of wine, perhaps the Vernaccia type, inside one of the firms affiliated with our company. On the way back, after the tour of San Gimignano, you will cover an unforgettable itinerary through the renowned hills of Chianti, going through the stunning centre of Castellina in Chianti and stopping by Fonterutoli, before finally reaching Siena.
*on request
WHAT DOES OUR TOUR INCLUDE
Rental of a vintage Fiat 500
Interactive journey with the GPS
Informative leaflet
Tablet
Interactive videos with explanations about history and art
Welcome Kit
Car insurance, driver, passenger, taxes, petrol
WHAT YOU SHOULD KNOW
Each vintage Fiat 500 can carry max 3 passengers
Each driver must own a valid driving license (Italian or foreign one)
COSTS
--- PROMOTION VINTAGE SUMMER 2022---
Rental of a vintage Fiat 500 (1-3 people) all inclusive 150 €
-------------------------------------------------
One person — driver 140 €
2 people — driver + passenger 120 € (tot. 240 €)
3 people — driver + passengers 100 € (tot. 300 €)